TYLT Galaxy S 5 Sliding Power Case Review
August 5, 2014
The case has a rechargeable removable power sleeve, which makes this case unique and stands out from the other power cases that are on the market. This is what I like about this case. The phone itself fits into an inner protective case, which can be used normally without having to be connected to the battery sleeve. This inner case is actually very nice. The batter sleeve oozes with quality. read more
---
TYLT VU MATE Wireless Charging Receiver Card Review
May 7, 2014
TYLT has a really cool alternative to Samsung's wireless charging cover … It's very easy to install and is probably one of my favorite accessories for the Samsung Galaxy S5. read more
---
TYLT VU MATE Wireless Charging Receiver Card Review
May 7, 2014
For under $25, the VU-MATE lets you inductively charge your S5. I love it. read more
---
TYLT VU Wireless Charger Review
April 13, 2014
As a home office/personal use product, the Tylt Vu is one of the best wireless chargers on the market. read more
---
TYLT ENERGI Sliding Power Case Review
March 6, 2014
The Tylt Energi Sliding Power Case gives your iPhone up to 10 more hours of battery life, and you can remove the battery when you need less bulk. read more
---
Here's the Gear We Couldn't Live Without This Month
February 28, 2014
As much as I love battery packs -- they're essential travel companions -- I hate the cables you need to carry in order to use them. So of course I freaked out over this TYLT battery pack with built-in cables, which conveniently arrived just before I left on a two-week vacation. The Energi 5K+ ($90) comes in a few different configurations, but this one is my favorite: It has a Lightning cable for my iPhone 5s and a micro-USB cable for my Kindle, and both of the cables snap cleanly into the body of the battery pack when not in use. There's also an agnostic USB port on the side for any other charging cable. The 5,200mAh cell juices up overnight and is good for three full iPhone boostings, and a 3-Amp circuit lets you charge two devices at once. Best of all, the whole thing is just about the same size as a phone, so packing this power-up in your pants is no problemo. read more
---
TYLT VU WIRELESS CHARGER
February 4, 2014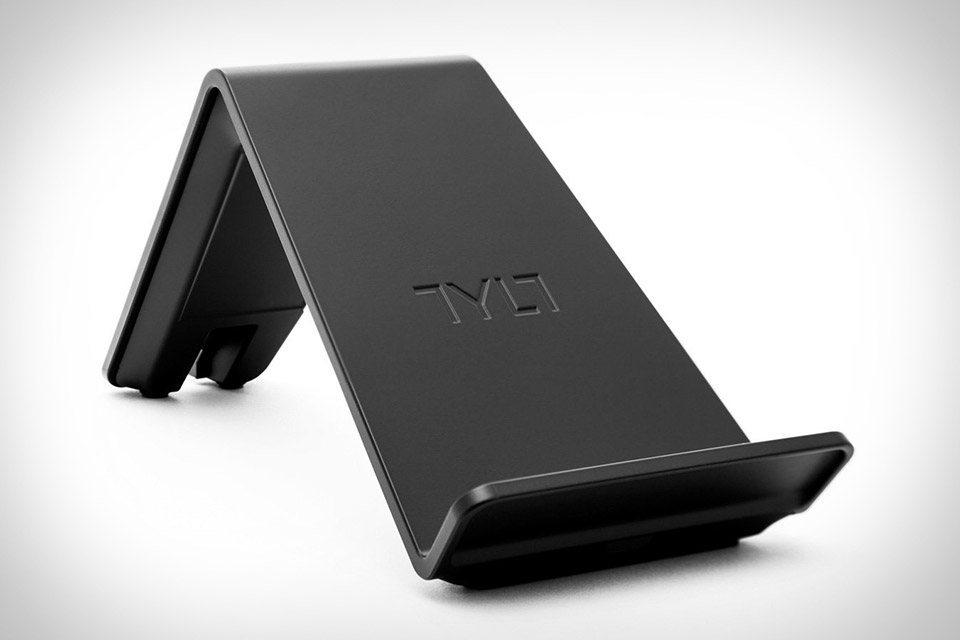 Qi wireless charging is great if your phone has it. What's not so great is trying to find the hotspot on your charger, so that you don't set your phone down and walk away, only to come back to find a dead device. The Tylt Vu Wireless Charger eliminates this issue with multi-coil free positioning technology that lets you drop your phone down - in either orientation - and have it charge just as rapidly as a wall charger without the need to fool with the placement. read more
---
TYLT Band, Y-Charge, And Energi 5k+ Review - Mobile Accessories To Keep Your Gear Charged
January 28, 2014
TYLT is a company that reinvents the way we think of our mobile accessories. There is no reason why every car-charging adapter needs to be the same design, or why our tablet/smartphone use should be limited to the duration allowed by the battery size that is determined by the manufacturer. TYLT has created some innovative products to further diversify our mobile accessories, and you will not want to keep them in the glove box of your vehicle!
Technology X had the opportunity to meet up with TYLT at CES this year, where we were introduced to a variety of innovative products. Thanks to TYLT, we have the opportunity to look at the TYLT Band Car Charger, Y-Charge and Energi 5K+. read more
---
Review: TYLT Energi+ Backpack
January 20th, 2014


TYLT sent me their Energi+ Backpack just before I left for CES, and I thought CES would be the prefect venue to test it out. I received the pack about 12 days before I left for CES and decided to not even open it until the day before my flight left so as to not get any first impressions until I was in the testing phase (boy that was hard). So, the day before my flight left I unpacked it and got it all ready to go for the trip. I fit a Macbook 13? laptop, Acer Chromebook, Nikon D3100 (w extra lenses), a couple external batteries, both cords for the laptops and various other small extras into the pack with room left over. Before we go any further, let's list the specs for the Energi+. read more
---
TYLT's Energi Wall-Charger Battery Is The Kind Of Smart Tech We'll Actually Use [CES 2014]
January 8th, 2014


LAS VEGAS - There're a lot of seemingly brilliant, sexy tech here at CES. razor-precise, slightly annoying miniature flying drones! A case for your iPhone that gives it weird, infra-red Superman eyes!
Wonderful. But would we really end up using this stuff? I mean, yeah, we probably would. But not every day. Probably not every month. On the other hand, TYLT's Energi 2K - a wall charger with a USB port that also houses a battery - is the kind of brilliant idea that we imagine we'd actually want to use every day. read more
---
Tylt Alin Screen Protector Applicator Tool - CES 2014
January 8th, 2014

The Tylt Alin is a system for easily installing screen protectors on smart phones. This video shows the install on an iPhone. It contains the applicator tool that aligns the screen protector to be straight and four screen protectors. Potentially it should also work with any similar film protectors. The kit sells for $20. read more
---
Tylt Energi Sliding Case
October 16, 2013


Another gadget from Tylt is the Energi Sliding case. It fits the Samsung Galaxy S4 and provides 2,350mAh of extra power for when your battery goes dead. read more
---
TYLT VU
October 16, 2013


Tylt's Vu is a $70 wireless charger for devices that can charge via inductive charging. It has a three coil system, which means it can charge at any angle and can even charge larger devices like the Nexus 7 2013. read more
---
Power up your Galaxy S4 with some Energi (hands-on)
October 16, 2013


We've all been there before: It's nearly the end of the day (or sometimes just the middle of the day), you're no where near an outlet, and your phone battery is all dried up.read more
---
TYLT Energi+ Backpack Review
October 13, 2013


It's not often that I review a backpack and actually find the product extremely useful or interesting, but with TYLT's Energi+, I actually found myself amazed by how useful a battery-equipped backpack could be.

TYLT's Energi+ received its first round of media coverage when it made an appearance at CES 2013, but it took a few months for the backpack to finally come out. For a road warrior like myself, being able to plug in my devices on-the-go without ever looking further than my backpack, is quite an appealing idea. read more
---
Wonky Screen Protectors Are A Thing Of The Past With ALIN For iPhone [Review]
October 10, 2013


I've applied dozens of screen protectors to my iPhones over the years, and I'd say less than 10% of them actually went on straight. They almost always go on wonky first time, and that means pulling them away and applying them again.

Fortunately, I don't have to worry about this anymore, because I have the ALIN from TYLT. The ALIN plastic alignment tool that clips into the side of your iPhone 5 or iPhone 5s and ensures that every single screen protector you apply goes on completely straight first time. read more
---
Tylt Band + Ruggd for iPhone 5c
Sep 17, 2013


Continuing the wave of iPhone 5c cases arriving before Friday's official launch, Tylt has sent over its Band ($35) and Ruggd ($35) protectors. Band is the more basic option of the two: a co-molded plastic and rubber case, it offers CandyShell-like protection with a grey, matte plastic body, and a band of yellow, blue, or pink rubber across the middle. Ruggd is similar, although as the name suggests, it's more ruggedized. read more
---
TYLT Energi+ Backpack Review: Power and functionality to please the road warrior
Sep 3, 2013


The folks at TYLT have some cool mobile accessories and recently held a successful Kickstarter campaign for their new Energi+ backpack. I have been using it for a couple of weeks and think the 13 pockets, large internal storage compartment, and 10,400 mAh battery will appeal to the road warrior. read more
---
IRL: Nook Simple Touch with GlowLight and the PowerPlant portable battery pack
Aug 19th, 2013


If there's one thing that seems to run out consistently -- particularly when you need it the most -- it's energy. You after a long day, a boxer in the 12th round and, most importantly, your smartphone at around 5 p.m. The abysmal battery life offered up by most gadgets far and wide has created an entire industry of backups -- charging devices engineered solely to provide [insert gizmo here] with an adequate amount of juice. I've toyed with a lot of portable battery packs in my day, but TYLT's PowerPlant is one that's worth a second look. read more.
---
IRL: TYLT's Energi charging backpack and the Logitech FabricSkin Keyboard Folio
Jul 29th, 2013


We had a chance to check out the Energi backpack back at CES, and at long last, it's shipping to consumers. I've spent the last couple of weeks attempting to fit it into my daily life, and I've found quite a few things that I dig. For one, it's super comfortable. The straps boast a wildly padded shoulder brace; it looks a little weird, but I've found myself longing for something similar on every other pack. Then there's the flexibility. The company was wise enough to not permanently install the 10,400mAh battery pack, so when you're using it sans gadgetry, you don't have to lug around extra weight. read more.
---
External battery packs and in-car chargers tested: Anker versus TYLT
July 29, 2013


Let's discuss smartphone and tablet battery life. It is atrocious. Thankfully a few temporary solutions to this problem exist, as we wait for battery technology to catch up and for manufacturers to stop trying to slim down products and focus on making them last. Today we'll be talking about two options consumers have: external battery packs and car chargers.

I had the pleasure of mashing three products head-to-head in the external battery arena as well as two from the car charger space. All of these are options when you need to charge your device on the go, but some are better than others. read more.
---
Brits say, "Best"
July 28, 2013

This iPhone 5 case is a clever design that combines protection with extra power only when you need it. It's actually a pair of cases; a thin, rubberish one that you attach permanently to the phone for basic protection, adding hardly any bulk; and a thicker, rechargeable main unit that slides over and locks to the first to provide a serious 2,500 milliamp hours (mAh) of extra power over the phone battery's 1,440mAh. click here for the full article.
---
Neat Freaks, Rejoice: This Smartphone Car Charger Doesn't Tangle
June 24, 2013


The world is full of perfectly serviceable smartphone accessories. Hell, every Apple Store seems to have an entire wall built of them. So for a product to make any real noise in the overcrowded category, or to even really justify its existence in the first place, it has to do something different. The Band, a smartphone car charger by accessory outfit Tylt, brings one big innovation to the table. Its chunky, ribbon-style cable is constitutionally tidy and utterly immune to tangles.
When NewDealDesign, the San Francisco-based agency tasked with rebranding Tylt, set out to find the accessory maker's new marquee product early last year, the car charger was far from an untapped category. There were dozens available on the market, many of which worked fine and looked nice enough themselves. The problem, the firm's designers found, was the state those chargers inevitably settled into after a few weeks of in-car use: jumbled up in the no-mans land between the front seats.
read more
---
TYLT TUNZ Bluetooth NFC speaker and charger Hands-on
February 1, 2013


THE FRONT SEATS of an automobile make for a cramped mobile office. But for most drivers, that's what the space has become. The car's cigarette-lighter receptacle may have humble origins, yet these days it powers just about every gadget that gets taken on the open road-smartphones and tablets, radar detectors and GPS units alike.
So it should come as no surprise when those few inches of space between each bucket seat turn into a jumbled mess of wires. Every device requires its own power cable, which somehow has a way of tangling and knotting itself when you aren't looking.
For many juice-strapped motorists, the TYLT Band Car Charger is the answer to their prayers. Its flat, semirigid cord resists kinking (why aren't all cables made this way?) and terminates in one of three connectors to accommodate most devices: a 30-pin model for older iPhones and iPads; micro-USB for just about all smartphones and dumbphones; and, next month, a Lightning version, for Apple's latest generation of mobile gear.
The Band also has an open USB port for plugging in a second cord-even one that's proprietary-to charge an additional device. The durable silicone unibody construction comes in four Technicolor shades and houses a 2.1 amp circuit, which is powerful enough to charge two smartphones or a voracious tablet. And when not in use, the Band is easy to curl up into a tidy coil. $40, tylt.com
---
Jan. 3, 2013

TYLT lives at the forefront of innovation in mobile accessories, empowering users to redefine the norm. By starting with the most powerful products that currently exist in a category and innovating up, TYLT promises the most sophisticated technology and forward design available. Current product offerings include power products, audio products and protective cases. TYLT is dedicated to shifting consumer expectations through best-in-quality accessories which innovate briskly to stay a step ahead of the fast-paced smart product launches.
---
TYLT TUNZ Bluetooth NFC speaker and charger Hands-on
Jan 7th 2013

For those looking for awesome and unique accessories for their favorite devices we have another fun one to show you today. Here at CES 2013 we caught up with TYLT, an accessory manufacturer that had all sorts of fun new products on display this year. What we're showing below is their all new TYLT Bluetooth speaker that doubles as a charger and even has NFC capabilities.
TYLT had tons of products on display here, and we'll be showing off more all week long. Their brand new TYLT TUNZ Bluetooth speaker had a few unique features up its sleeve like bass reflex, NFC tag capabilities, Bluetooth, USB 2.0, and even acts as an external charger for those moments in need.
All of TYLT's new products are fun and full of color. Who needs the boring and old white anyways right? The TYLT TUNZ includes three adjustable and interchangeable silicon bands of different colors so you can personalize the look whenever you'd like. Connectivity is as usual via Bluetooth, but also offers the usual 3.5mm audio in, as well as audio out to export sound to a nearby device or TV. Then we mentioned NFC. The TUNZ comes with a free NFC app by Tagstand for easy NFC tagging to instantly play your favorite music and more.
With 30 hours of playback, the 2,500 mAh battery inside also doubles as a portable charger via USB 2.0 to your favorite smartphone. For more details and information you'll want to start by heading here, and TYLT told SlashGear to expect their new speaker to hit the streets in early Q2 of 2013. The expected retail price will be $149, so should compete nicely with other options such as the JAMBOX. Even though the competition doesn't offer the charging feature.
---
TYLT Energi Backpack charges 3 devices at a time, we go hands-on
Jan 8th 2013

The awesome backpack you see below is the Energi Backpack from the folks at TYLT. They're here at CES 2013 showing off a wide array of accessories for all sorts of users. From iPhone 5 cases, TYLT TUNZ Bluetooth speakers, fun multi-colored chargers and more. This new backpack available now is certainly made with those who carry multiple devices every day in mind. Read on for more details.
We've seen powered Backpacks before that pack internal batteries to charge our favorite smartphones, tablets, and more, but this is made to handle any and all situations. With nearly enough pockets to store your entire office, an awesome industrial design, and 3 USB cables to handle a wide array of devices you'll never be without juice.
TYLT's new Erergi Backpack rocks a 10,050 mAh battery that's built in, and will be able to charge your average smartphone almost each day of the week, depending on size. They've equipped this backpack with an array of compartments to store everything, and they've also got a place specifically for your tablet.
You can charge a single device, or up to three simultaneously. It sports three USB ports on the side and enough cables to access the nearly 10 different compartments. Every area of the backpack can be provided with juice to charge devices, but it comes with 3 cables already routed for your convenience. The TYLT Energi Backpack can be charged back up via micro-USB, as well as a full USB 2.0 port on the side for easy recharging on the go. It's currently available for $169.
---
Energi charging backpack by TYLT hands-on
Jan 8th, 2013


Seemingly made for the urban warrior, the Energi charging backpack by TYLT does precisely what it claims to do. Hosted on Christie Street as a crowd-funded project and shown off here at CES 2013, the bag offers an array of compartments for everyday product storage (as you would assume), in addition to a charging base within its main pouch. The brick is capable of charging up to three devices simultaneously via USB, as well as a micro-USB port for juicing the bag itself. There's also an accessible slit on the lower right side for threading out cords and charging devices on-the-go. It's currently on sale for $169, but look for that price to jump to $189 once the company reaches its $150,000 goal.
---
TYLT Fusion Case: A case within a case
8 January 2013


LAS VEGAS, US--Most charging cases are designed to fit the phone perfectly, which means you have to remove the phone cover (if there is one) before you can slide the phone in to charge. A charging case is a phone cover that comes with built-in battery to extend the battery life of the phone.
The Fusion Case from TYLT, however, takes away the hassle of having to remove the phone cover. In this case, the phone cover, together with the phone, can be inserted directly into the charging case.
While we are still not sure how viable this charging solution will be, given the overall package will be slightly more bulky, it is nonetheless worth considering if you are one of those who hate having to remove the phone cover every time you need to use the charging case.
TYLT has not released a launch date or price for the Fusion Case.
---
TYLT's Product Lineup Materializes At CES
January 8th, 2013


Last week, TYLT sent out a press release touting their new lineup of products, including several 3D renderings. I have to say that after getting a chance to look at a few of the actual products here at CES, the lineup looks impressive and the renderings seemed accurate.
Additionally, the company had a few extra products not mentioned last week in the initial lineup, like the Fusion Case, that also really grabbed my attention. The Fusion Case is essentially, a case within a case. The outer shell is a 2500 milliamp battery sleeve while the inner case is a rubber protector with a much slimmer profile. The two cases fit together so that while not re-charging, you can still have some protection without all the bulk. A good idea.
For the uninitiated, TYLT manufactures rubberized smartphone charging products with a neon flare that, while bright and lively, never seems to be overbearing. They are rather "Wonka-esque" if anything and their rubberized concepts are grippable and comforatable.
Also launching at CES is the company's Energi Backpack, a backpack containing a battery with more than 10,000 milliamps of juice to charge multiple mobile devices. The battery also has cables that are snaked throughout the pack to make charing less tangled.
---
[CES 2013] The First Thing At CES I Actually Want: The TYLT VU, A Wireless Qi Charger That Doesn't Suck


Wireless charging is awesome, but wireless chargers blow. They are so finicky. I have a Nexus 4 and an LG wireless charger, so I know all about this first hand: Take your wireless charging phone, put it on your wireless charger, and it charges, right? Well, only sometimes. The charging coil in the phone and in the charger need to be lined up just right for the power flow to happen. Move the phone 1 mm off center and it stops charging, bump the table it's on and it stops charging, breathe on it funny, and it stops charging.
7YL7 TYLT solves this pretty simply with a charge they call the "TYLT Vu." It has multiple charging coils in the charger, so there really is nothing to line up with. Just throw it on the charger and you're done. It will even work if your phone is sideways or upside down, as you can see in the pictures. It's a reliable wireless charger.
It uses the Qi wireless charging standard, so it should work for a Nexus 4, Droid DNA, LG Spectrum 2, and many others.
Sadly, there's no word on pricing or availability yet. Like most things at CES, all we could get out of them was "coming soon." I want one.
---
A Gallery Of Gadget Gems At The CES's Pepcom [CES 2013]
Jan 8th


LAS VEGAS, CES 2013 - Last night, the Cult of Mac staff attended a CES event called Pepcom. It's a heavily sponsored event with hundreds of companies showing off their latest products to members of the press. Some products are not available for retail and a few don't even have prices yet. Pepcom goes all out on themes. The more elaborate, the better. This year the theme was "tailgating," so there was a lot of deep fried food and people dressed as football players and cheerleaders.
---
---
Show Report: Tylt
January 7, 2013


Relative Apple accessory newcomer Tylt is on hand at CES showing off many of its new and recent products. In addition to an updated version of the cables we saw last year, Tylt showed iPhone 5 cases, with and without batteries, a Bluetooth wireless speaker, a battery pack with Lightning connector, and a recharging backpack with a serious battery.
---
[CES 2013] TYLT Energi Charging Backpack
January 8, 2013


We've been anticipating the arrival of TYLT chargers and now that the CES 2013 gates have opened, they're here. Let's zoom in on the TYLT Energi Charging Backpack as it's the one that caught my attention because it's a bag which is obviously very portable.
I'm on a bag-shopping diet this year but as early as now, I'm saying I might break the pact. This TYLT Energi Charging Backpack is just too good to be true. Thing is, I don't think I could shell out $169 for this one. But then the project is socially funded I could also decide on supporting the makers.
The charging backpack features many compartments, a charging base, USB port, micro-USB port, and slit for threading out cords and charging while on the move.
The company responsible for this bag design wants to raise at least $150,000 to finally go into production. Won't you help this green bag initiative?
---
CES 2013: Smartmobile accessories by TYLT and Tagstand will steal the show
January 5th, 2013

You as a consumer of electronic goods always crave for products that solve more than one purpose, and that is exactly what the partnership of TYLT (leader in smart mobile accessories) and Tagstand is aiming to achieve. With a futuristic view of how modern day gadgets should be and their accessories so that the end-user has an exhilarating experience the duo has come up with a line of products to be revealed at CES 2013.
# Powerplant portable battery pack - Having a high capacity battery under the hood this portable battery charger makes sure that you never ever run out of juice for your long list of gadgets that you might be taking out on an adventure trip or any other situation when portable charging is needed. It will easily charge your smartphone, tablet or Bluetooth device in tandem with enough battery charge still left to charge your gadgets one more time.
# Y-Charge dual USB car charger - Compatible with any USB chargeable device this sleek design charger comes with a dual charging option so that one can juice up their gadget's battery on the go.
---
TYLT CUTS THE CORD WITH VU WIRELESS CHARGING DOCKS
Jan 9 2013


We iPhone users are suffering from a serious case of Qi envy - but, finally, there's a wireless charging solution that's practical and looks great. Tylt, which won a 2013 CES Innovation Award earlier this week for its Band car charger, has just launched a wireless charging dock called Vu. With most wireless chargers, the device has to be positioned just right, but Vu has multiple coils that can power Qi-compatible phones in any position
The Vu is angled at 45 degrees, making for a nice stand to use your smartphone while it's charging. Its soft, rubberized surface prevents devices from sliding around while powering up. Existing docks are typically very slow, but Tylt claims its wireless charging dock can charge devices as fast as a traditional wall plug.
Available in red, yellow, blue, or black, the Vu dock would make a fitting addition to a minimalist, modern home. Sorry iPhone users, only Qi-compatible phones like the Nexus 4, Samsung Galaxy S III, and Droid DNA can use the dock. Neither the availability nor pricing has been announced yet.
---
TYLT DROPS WIRELESS SMARTPHONE CHARGER - MEET THE "VU"
09 January 2013


The tech press was relatively light on Apple for not infusing the new iPhone 5 with Qi technology. Qi, named after the Chinese term and philosophy for Qi (pronounced Chi) energy flow, is the new global standard that allows a Qi-enabled devices to be placed atop a Qi-enabled charger for wireless battery charging. Toward the end of last year, there were 120 companies, each with many products under their belt, all committed to adding Qi into their products if not already infused.
Well TYLT, the mobile device manufacturer, has just unveiled the Vu wireless charger for untethered power-ups. Simply place a Qi-enabled phone on the Vu charger to begin the power transfer. TYLT says users will enjoy rapid charging "as fast as a traditional plug-in charger". The Vu sits at a 45 degree angle so you can still see and use your device and comes in a variety of color options.
---
TYLT Band Wall Charger
Jan 8 2013


A company called TYLT, design an iPhone charger that replaces wire with a flat ribbon to keep your bag clutter free. Dubbed the "Band Wall Charger", the new charger wraps the ribbon around the cylindrical plug for clean and organized storage. Priced at $40. Good idea.
---
A Hefty Battery Makes Tylt's Energi Charging Backpack Worth Lugging Around
JAN 8, 2013

Wouldn't it be nice to travel with a reliable and portable power outlet for all of your mobile electronics? That's the dream that Tylt has possibly made a reality with its new Energi Backpack that houses a hefty 10,050 mAh battery that's accessible via three USB ports, allowing even the iPad and other tablets to recharge while buried in your bag.
But what makes the Energi particularly slick is an inner networking system that lets you route cables and setup your own little power grid inside the pack. It includes microUSB, 30-pin dock connector, and lightning USB cables, and you're able to use your own charging adapters as well to supply power to devices inside any of the Energi's many pockets. The battery itself can be swapped in and out, but an easy-access USB cable means you never actually have to remove it for recharging. At $169 it's on the high-end of gear bags, but when you consider it includes cables for your iOS gear and a big battery, it suddenly sounds like a real bargain.